Wil Wheaton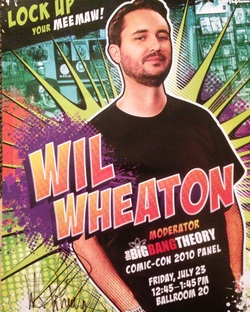 There were a couple of big surprises at San Diego Comic-Con, 2010 and securing a free Wheaton-autographed Big Bang Theory poster wasn't the least of them. Like all mornings at SDCC, the doors opened to instant chaos. While Carmelle went to battle the lines for an exclusive Tron figure, I did my usual loop of freebie hunting. As lines lengthened and opportunities seemed to disappear, I decided to take a look at the most frantic booth of all, the WB booth.

The line for some random posters at the WB booth was much longer than I was prepared to battle, that particular morning, so I decided to step aside. While doing so, I noticed people were trying to discern when there would be an opening of a line for Big Bang Theory autographs. In typical SDCC/WB fashion, this was going to become an operation of luck more than skill, so I decided to give it a few minutes and see if something would open. Security continued to push people out of line and decry the idea that they knew anything about a line-up time. Then in equally typical fashion, they abruptly opened the queue to a mad crush of humanity. Not even knowing what the line was for, I jammed my body into it and worked my way through the line, into the center of the booth. Then, just as abruptly as it opened, it closed again…and I was inside.

Shortly after, I saw a monitor flash that a Wil Wheaton signing was to begin momentarily. I searched my bag to find something for him to sign, but was pleasantly surprised when I found he was signing a specific SDCC Big Bang Theory poster. Although I would have liked to have him sign my Star Trek: The Next Generation cast picture, I would have to wait to obtain his signature at a later encounter, at Phoenix Comicon. That said, I wouldn't trade having his autograph on the official poster for having it on much else in the world. Wheaton was a very nice guy and was extremely thankful for the standard, "I enjoy your work."

This encounter sums up what's led SDCC to become so special. No matter how much you plan for the King of Cons, the unexpected moments are what make it most special. SDCC always manages to bring joys that you couldn't expect the week before the show.


---