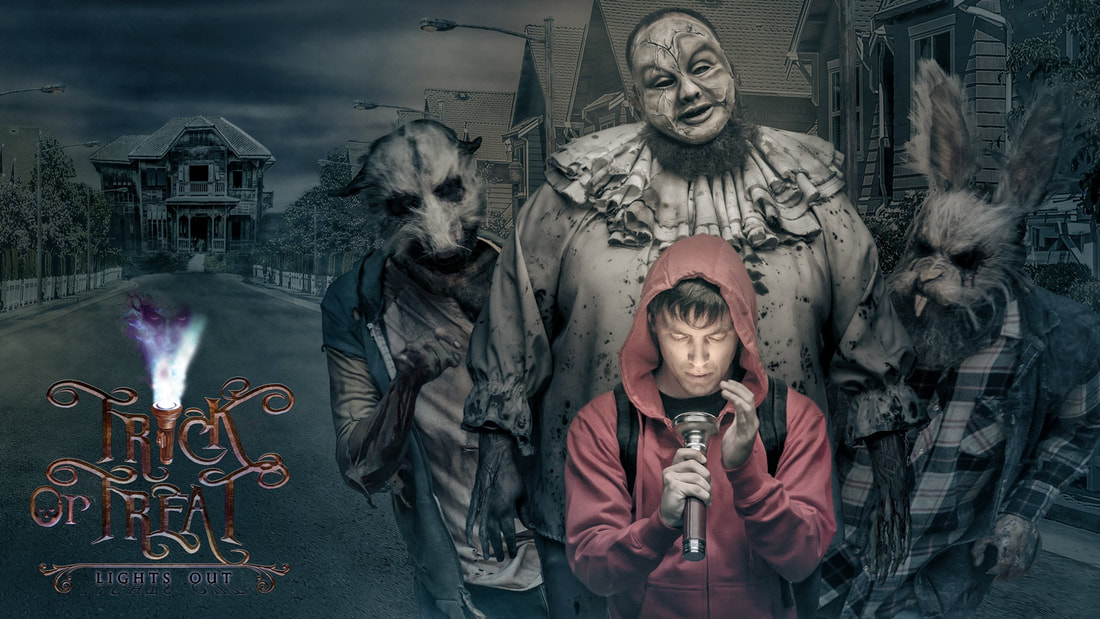 Valencia, California, October 24, 2017- The third new haunt at Knott's Scary Farm this year is Trick-or-Treat: Lights Out. Armed with only a seemingly faulty flashlight, a stout heart, and a love of horror, unsuspecting trick-or-treaters enter the haunted home of the Green Witch and plunge into terrors amid total darkness.
This year's Trick or Treat maze features new, state-of-the-art effects and high-impact scares. A flashlight may seem like small comfort in such a setting, but wait—this isn't just any flashlight. This is a Torch Technology powered flashlight- a specially made, programmable, IR (infrared)-controlled flashlight; the flashlights both receive and transmit IR, allowing each guest's experience in the maze to change based on where they point the beam of light.
The combination of a top-tier maze, total darkness, and the flashlight are what make Trick or Treat the expedition into horror that it is. The haunt offers a mélange of fear, anxiety, shock, horror, and a rising sense of urgency to find one's way out.
Knott's Scary Farm's Trick or Treat maze debuted in 2012 and is the oldest maze at Knott's Scary Farm. Ken Parks, Vice President of Entertainment, and Jon Cooke, Entertainment Designer at Knott's, sat down earlier this year to consider whether to discontinue the maze. "It's a fan favorite," said Jon, "and we didn't want to give it up. So we started looking at what we could do to change it up. That's when we came across Gantom's Torch Technology." The maze opened this season as 'Trick or Treat: Lights Out.'
The Guest Experience
"It puts the guests into a spot where they're a character in the attraction," Cooke Commented. We're just seeing the beginning of being able to use technology to create these larger, immersive environments," said Parks. "We'll be leaning into technology but not losing what made us famous, which is a simple, tactical scare."
Philip Hernandez, Director of Marketing at Gantom Lighting & Controls, talked about his experience working on Trick or Treat: Lights Out: "Working on this project with the creative team at Knott's has been a dream come true for me, coming from the themed entertainment and Halloween space. Contributing to an experience like this is something I've dreamt about since I was running my home haunt in high school. At Gantom our passion is creating compact technology for creative professionals to use in magical experiences. This is what we live for!"

Behind Torch Technology
Gan explained how the Torch Technology powered flashlight works. "What we're doing is taking decades-old IR technology that's in everybody's remote control and we're incorporating it into various forms of interaction. What you see at Knott's is only one iteration of that, one manifestation of a guest walking through a scene and being able to trigger effects. Torch technology is a communication technology among multiple points, multiple people, and people and scenery.
"The Torch isn't limited to any form factor. We happened to make the flashlight form factor because it was the best fit, thematically, for a haunted house setting. We can incorporate it into virtually anything."

About Gantom Lighting & Controls
Gantom, formerly Darklight, was founded in the Spring of 2010 as a manufacturer of special-effects lighting equipment catering to the themed attraction industry. The company specializes in illumination of low-light and space-constrained environments where traditional theatrical luminaries aren't suitable. Its award-winning products are the "secret weapons" of many lighting designers and industry experts and have been installed around the world in a wide range of applications including theme parks, museums, bars and clubs, and haunted venues attractions.
​For more information, contact Philip Hernandez at
575-639-0511
or
philip@gantom.com