---
The_Con_Fluence Covers...

a Close-up of a Jack Skellington, of Nightmare Before Christmas, Meet and Greet that took place in October 2013 in New Orleans Square in Disneyland Park in Disneyland Resort in Anaheim, California.
The_Con_Fluence Covers...
a FULL Video of Olaf Sleeping Opening Night on the roof of the new Frozen Royal Reception, the New Meet & Greet area for Anna & Elsa, in Disneyland, Anaheim, California. This meet & greet opened November 6, 2013. During the day, Olaf is very talkative, but at night he sometimes snores & talks in his sleep. This animatronic does more than the animatronic Figaro in Fantasy Faire.
Thor: Treasures of Asgard Experience...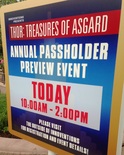 ---
October 16, 2013...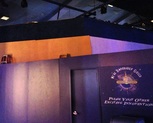 Thor Asgard Experience
With just a few weeks away, it looks like the Thor Asgard Experience at Innoventions, in Disneyland, is reaching above the construction walls. Don't miss it's opening on November 1, 2013. This will be your first chance to take a picture with a Marvel character, in the park. If you can't make it, we 'll bring it to you
here
.
---