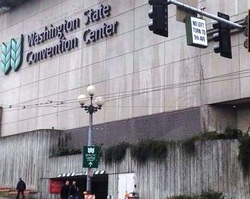 Emerald City Comicon (ECCC) is completely SOLD OUT! It will take place March 28 - 30, 2014 at the Washington State Convention Center.
I recently spent some time in Seattle & explored the area surrounding the convention center, looking for hints & tips for those of you fortunate enough to be attending ECCC. Here is what I found:
Just a couple blocks from ECCC, you'll have a drug store (Bartell Drugstore - Downtown, 1628 5th Ave, Seattle, WA 98101) w/cheaper drinks & snacks.
I highly suggest Salena Mexicana, in Westlake Center, for high quality, quick, & relatively inexpensive food options. They have amazing veggie dishes!
If looking for a Disney fix while attending ECCC, The Lion King is being performed just one block from the con.

Tons of shopping & entertainment, within a few blocks of ECCC, but travel 4-6 blocks & you'll find more deals & affordable pricing. Best option for ECCC survival items is Target, a few blocks down, at Union & 2nd.
Beware of major construction & congestion throughout major Seattle arteries.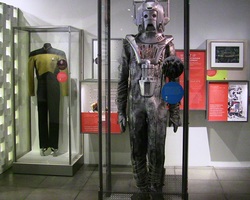 Every person going to ECCC needs to go to EMP Museum (325 5th Avenue N, Seattle, WA 98109), unless they hate Star Wars, Doctor Who, Superman, Trek & everything else that's cool! For those going to ECCC, I'd take a 2 hr mid-day break & experience the Monorail & all EMP Museum has to offer.
For those traveling to ECCC & not renting cars, I suggest the light rail over taxi; way cheaper & much better views.
Exploring...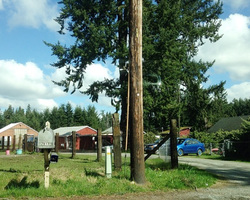 Stewart & 5th has an easily accessible Avis (1919 5th Avenue, Seattle, WA, 98101), for those who want to do a quick day trip away from ECCC.
It's about 40 miles from ECCC but there are few better toy spots for prices & selection than the Toy Stable. If you played with a toy between 1970 & 1995, it is most likely represented at the Toy Stable, making it a Washington must see. It is located at 2917 Military Road East, Tacoma, WA 98445.
For those w/cars at ECCC, a short drive to Tacoma's Antique Row will provide you with some fun toys, comics & oddities. It is located at 743 Broadway, Tacoma, Washington, 98402.
Although about 30 miles from ECCC, a visit to Twedes Cafe is a rare treat for Twin Peaks fans.
As much as I suggest taking a day from ECCC to take some day trips, beware of price-gouging on parking in the city. Because of the $46 per day price at my hotel, I only kept a car for one day & crammed all the travel that one day.
Although there's a lot of overpriced silliness down by the water, the best of it is awe-inspiring and free.

Although there will be tons to see & do at ECCC, take advantage of all the Geeky Goodness Seattle & the surrounding communities have to offer!
Until next time, we'll see you in line...somewhere!