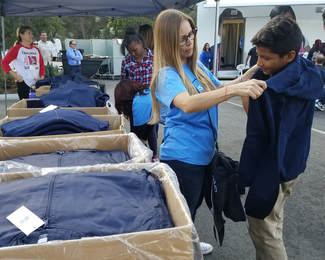 November 10, 2017 - On November 9th,
Universal Studios Hollywood
(USH) opened up their gates, once again for their Day of Giving event. This time, USH team members came together to welcome nearly 300 homeless Los Angeles children at this 13th annual edition of the event.
Although the kids didn't have to worry about the behind the scenes, the event began for USH volunteer team members long before the children showed up. Getting in the holiday spirit early, the team members worked to compile massive amounts of giveaways to greet their guests upon their entry. Once they arrived, the children smiled wide as they were given backpacks, shoes, books, jackets, school supplies, snacks, ets.
With backpacks filled, the children departed the giveaway area and made their way into the park where they were treated to a day of entertainment. With Minions, wizards, and dinosaurs as just a few of their companions for the day, the kids enjoyed a full day of fun. It was heart-warming to hear the children excitedly discussing their plans for how to enjoy the park. It was difficult to determine if they were more excited to receive their gifts or to get into the park.
In addition to the events at USH, hundreds of employee volunteers made their way to six Los Angeles-based non-profit organizations, many of which are beneficiaries of the
Discover A Star Foundation
. The participating organizations included
Operation School Bell
,
AIDS Project L.A. (APLA)
,
Downtown Women's Center
,
Tree People
,
Union Station Homeless Services
, and
Shane's Inspiration
.
---