For those unfamiliar, Ghost Train is a whimsical journey into the world of a dreaming child on Halloween eve. With the denizens of Halloween ready to break free from imagination and lore, riders of the Ghost Train are transported to a world where ghouls, goblins, witches, and other things that go bump in the night frolic and play in full view of those brave enough to ride the rails of a child's Halloween dream.‪ It's a surreal ride and one that young and old never forget.‬ Take a look and listen to our
2015 Ghost Train
experience,
http://www.parksandcons.com/ghost-train.html
!
‪In 2016, Southern California fans were disappointed that the attraction would be dark. As with any Halloween attraction that goes dark for a year, there is a concern that it may never return. Many are unaware of the immense amount of time that goes into even the smallest temporary attraction and, with something the size of Ghost Train, it would have been understandable if it went dark forever.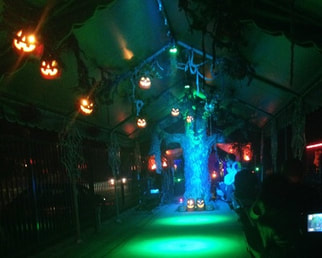 After a very long run of entertaining families, there was a very noticeable absence last year. Although Ghost Train is a joy for all ages, it also serves as one of the only high quality nighttime Halloween attractions that is family-friendly. With theme parks concentrating on adult entertainment, in the evening, and children's activities, in the day, there are few options, besides Mickey's Halloween Party at Disneyland, that are meant for families to enjoy together. Thankfully, Ghost Train's return will re-install a family classic, this fall.‬
‪As we write, Gary Baker (Ghost Train Founder and Executive Producer of Midsummer Scream), is leading a team of dedicated individuals in re-imaging the train for this 2017 season. We will be following along with this story, as we count down to its opening night, Friday, October 13, 2017.‬
For more information, keep an eye on
The Los Angeles Live Steamers Railroad Museum (LALSRM)
website,
http://lals.org
, and follow Parks and Cons on
Facebook
,
Twitter
,
Instagram
, and
YouTube
.