Saturday, November 2nd was day two of this year's Stan Lee Comikaze Expo. Building on an exciting first day of the con, the show opened to much larger crowds Saturday morning. Despite wide walkways and a large area for cosplay photos up front, passageways were extremely crowded as excited fans made the show one of the busiest we've seen at a con this year. The new registration system that the show has implemented has worked wonders in getting attendees into the action in an extremely efficient fashion.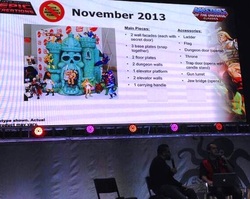 Although gaming and merchandise were huge on Saturday, the Hot Topic Main Stage seemed to dominate the show. Following up a strong Friday where the likes of Edward James Olmos, Stan Lee, and the cast of Sharknado got the crowd buzzing, Saturday featured many guests that are rare appearances at a pop-culture convention. The day started off with the Mattel team making sharing updates in their various lines as well as giving some exclusive announcements to Comikaze fans. Attendees seemed particularly excited about the announcement of an Intergalactic Skeletor figure for August of 2014. Later in the day, Archaia brought Alyssa Milano to the stage for a discussion of the work she has inspired, Hactivist. The book being released by Archaia next year centers around the story of an individual with computer hacking skills like none other-and all for good. She also revealed a cool Easter Egg that you can find in our video of the panel. The panels kept the stars coming all day long and concluded with an impressive cosplay contest. If you missed any of the panels, take time to view them on YouTube.
Within earshot of the main stage, vendors continued selling with artist alley appearing particularly crowded. While exclusives continued to draw crowds, the Matty Standor figure was left sitting on shelves with a big surplus for Sunday. Meanwhile, the Funko Stan Lee sold out early. In speaking to a few vendors, new comics seemed to be selling well while while vintage books were not moving as well. Several toy vendors reported big days. One new-toy exhibitor said it was one of his busiest days of a year where he exhibited at many cons.

We listed cosplay as a strength of last year's Comikaze Expo and Saturday made us positive that it would continue that way for another year. Whether it was on the exhibit hall floor or on the Hot Topic Main Stage or the front concourse, cosplayers were everywhere. One photographer took it upon himself to organize large groups on the front stairs into group photo shoots that were impressive in scope and quality.

With the first two days of the con done, we still have one more days of fun at Stan Lee's Comikaze Expo. This show has never taken Sunday lightly in the past and it is likely that trend will continue tomorrow as some big guests are still in attendance. Watch here for more coverage during and after the con, including wrap-up videos where we go "Under the Con," panel footage, photo galleries and detailed analysis of what we're finding throughout the show.